MYVITALY® BIO - Organic Olive leaf extract Liquid - 20% Oleuropein
Quick Overview
Organic olive leaf extract is a powerful source of polyphenols. It has been recognised - and used as antibiotic, antiviral and against fever - since Egyptian times.
MyVitaly® BIO is our new organic and pure olive leaf extract. Pure oleuropein extract enriched with Calendula flower and orange and lemon essential oils for a juicy taste.
Start your journey to vitality and wellness now, with BIO! Shake it and drink it neat, or give your daily smoothie or herbal tea a vitality boost only by adding 40ml of olive leaf extract.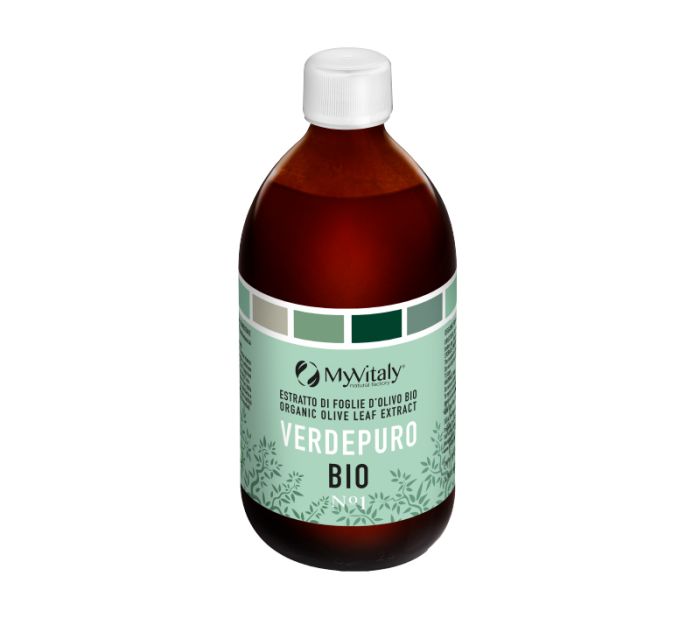 THE BEST FOOD SUPPLEMENT TO LOWER CHOLESTEROL IS NOW ORGANIC!
Organic olive leaf extract is the best home remedy for high blood pressure. It helps to lower your cholesterol and your diabetes. It protects the cardiovascular system and promotes immune health.
Enjoy a cup of our olive leaf extract and taste the new fresh flavour, with citrus essential oil. Boost your wellness with our new tasty and super concentrated organic olive leaf extract. Verdepuro Bio is certified organic and is fructose free.
OLIVE LEAF EXTRACT
Lower cholesterol and triglyceride

Lower high blood pressure and promotes healthy blood circulation

Antioxidant Action against free radicals

Immune support, excellent treatment against viruses, retroviruses, bacteria (herpex simplex, candida)

Detox Action, it removes toxines from liver, kidneys and intestines

Immunostimulatory, it stimulates the action of the immune system

Antiviral, Effective and functional against germs, bacteria and infections
ADDITIONAL INFORMATION :
Olive Leaf extract MyVitaly® BIO is a highly concentrated liquid and organic olive leaf extract made in Italy designed for everyday Antioxidant support & protection

It is a powerful source of natural antioxidant like Oleuropein, Hydroxytyrosol, Elenolic Acid and Rutin

Organic Herbal Ssupplement 500ml (suggested daily intake: 40ml - 1 scoop)

Fructose Free. Only with natural flavours

Organic certified, Gluten Free and Vegan Ok
DIRECTIONS:
Take a scoop (40 ml)- daily, preferably before breakfast, straight or diluted with water or tea.

Olive Leaf Extract has usually no side effects, however sometimes people report a detox reaction. Olive Leaf Extract causes the death of microbes and the elimination of toxines, this might cause symptoms like rashes, diarrhea and muscle pain which indicate that the product is working well and toxines are being removed from your organism. These symptoms disappera within 3-5 days and they can be reduced by increasing the fluid intake.
INGREDIENTS:
Extracts acquoeus mix of organic *Olive (Olea europaea L.) leaves (66g/L) and organic *Marigold (Calendula Officinalis L.) flowers heads (3,1g/L), agave syrup*, stabilizer: glycerol; preservative: lactic acid; natural flavour: citrus, *sweet oraange(Citrus sinensis (L.) Osbeck) essential oil. * Organic agricolture.
Security Information
Dietary supplements should not be used as a substitute for a varied and balanced diet and a healthy lifestyle. Not recommended for pregnant and lactating women. Keep out of reach of children in a cool and dry place. These products are not intended to diagnose, treat, cure or prevent a disease or infection.