MYVITALY® Verdepuro Ashwagandha 600 mg enriched with olive leaf
Quick Overview
Organic food supplements with KSM66 Ashwagandha root extract and olive leaf extract in capsules. Ashwagandha is a tonic-adaptogen* useful for fighting physical and mental fatigue*. It promotes relaxation and mental wellbeing*. It contributes to increasing the immune system*.
Olive leaves contribute to the metabolism* of carbohydrates and lipids , other than the normal blood circulation* . They also improve blood pressure* regulation and they have an antioxidant* action. * Official claims
Sleep better, relax and live stress free thanks to this natural ayurvedic remedy for mental well-being.
Every unit contains 60 vegetale capsules - 30 daily dosis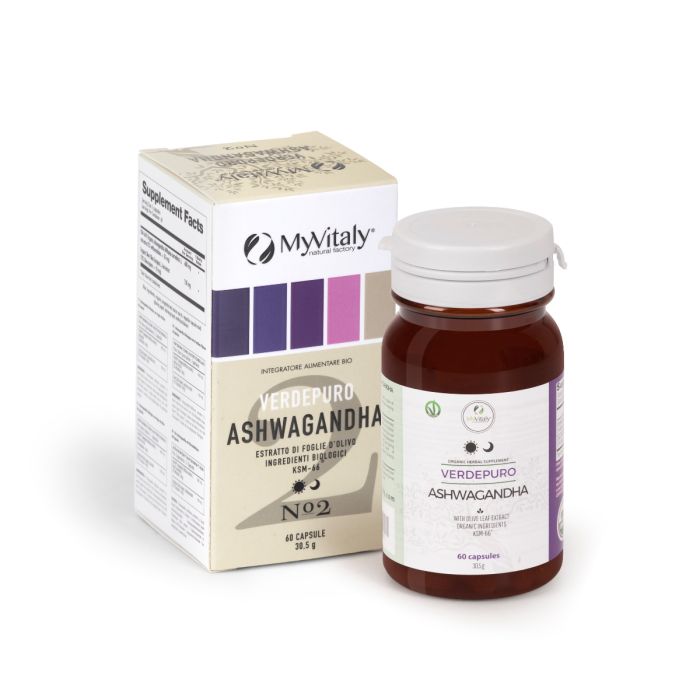 IMPROVED MENTAL WELL BEING AND SLEEP
Ashwagandha is a plant native from India, it is a powerful natural adaptogen, which therefore helps our body to defend itself from states of stress, thanks to a protective and at the same time immunomodulating action. Verdepuro Ashwagandha is the only extract on the market composed by Ashwagandha root and organic olive leaves, an innovative mix with a positive effect on the immune system and cholesterol levels.
Patented KSM-66 Ashwagandha Organic Extract is the most popular branded extract, which ensures the highest concentration of withanolids (tit.5%). The Ashwagandha (Withania Somnifera or Indian Ginseng) is a powerful ayurvedic remedy.

Strong relaxing action, acting therapeutically against anxiety states, preventing insomnia and daytime fatigue due to lack of sleep;

Improved muscle mass and strenght, natural analgesic against joint pain due to its anti-inflammatory activity;

Valuable support to those suffering from Hashimoto's thyroiditis and hypothyroidism;

Olive leaf combined with Ashwagandha is a natural antioxidant, it has beneficial effects on the cardiovascular system (cholesterol lowering effect);

Ashwagandha improves general sexual health and fertility;

Improved concentration and attention as well as memory skills. Whitania somnifera is able to act against depression, and prevents aging damage to brain cells;
Verdepuro Ashwagandha: an innovative mix for your physical and mental wellness
The only organic supplement on the market composed by Ashwagandha root and organic olive leaves, an innovative mix with a positive effect on the immune system (also in case of Hashimoto's hyperthyroidism) and it helps to reduce cholesterol levels.

Reduces stress and anxiety: being a tonic-adaptogen, Ashwagandha favours the relaxation, reduces cortisol levels and improves sleep. Improves memory and cognitive functions: it helps concentration.

Antioxidant action empowered thanks to olive leaves. Natural analgesic and painkiller, Ashwagandha helps to reduce joint pain (rheumatism, arthritis) and reduces muscle pain.

Enhance resistance and muscle mass, reinforces musculature and enhances muscle recovery rate. It is also effective in improving sexual performance both in women and men, and testosterone increase in men.
ADDITIONAL INFORMATION :
Organic certified (ICEA Organic and USDA Organic)

Gluten free and VeganOK

The product does NOT contain milk or milk-derived

Natural supplement 60 capsules (suggested daily intake: 2 capsules a day)

FREE FROM pesticides, sweeteners, dyes and artificial flavours. GMO-free
DIRECTIONS:
Take 2 capsules daily, with a full glass of water.

.
INGREDIENTS:
Organic KSM66 Ashwagandha (Withania somnifera L.) root extract, Olive (Olea europaea L.) leaves extract.
Security Information
Dietary supplements should not be used as a substitute for a varied and balanced diet and a healthy lifestyle. Not recommended for pregnant and lactating women. Keep out of reach of children in a cool and dry place. These products are not intended to diagnose, treat, cure or prevent a disease or infection.