MYVITALY® VITA SHOT - Olive leaf extract Liquid - 20% Oleuropein 14x60 ml monodose
Quick Overview
Wellness to take away
MyVitaly® VITA SHOT is a pure Olive Leaf Extract Liquid, a great antioxidant supplement, a strong immune support and a powerful source of polyphenols for the overall body health. Best Remedy to lower cholesterol. MyVitaly® VITA SHOT comes in a box of 14 single-dose sachets (14 pcs x 60ml).
Bring the taste, freshness and wellness of Olive Leaf Extract MyVitaly with you!
Start your journey to vitality and wellness now, with VITA SHOT.
Our box contains 14 daily doses x 60ml. The price refers to 1 box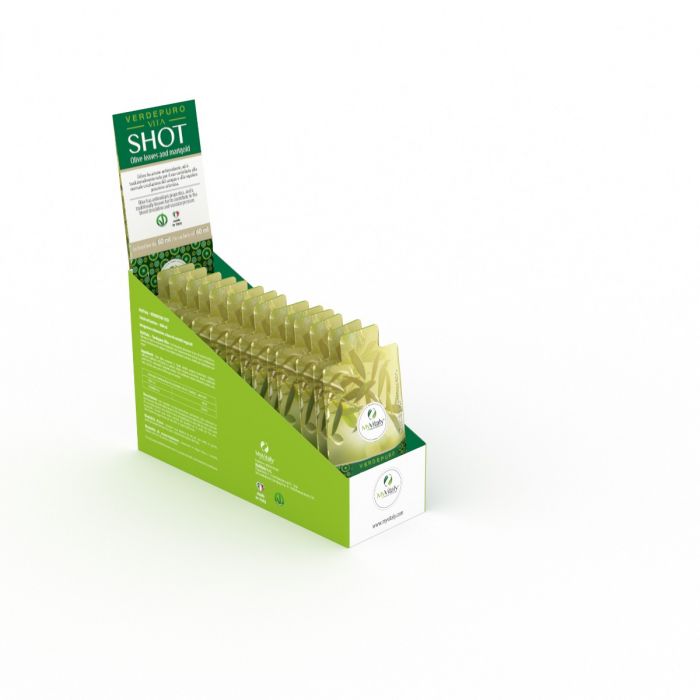 WELLBEING AT YOUR FINGERTIPS
Your favorite Pure Olive Leaf Extract Verdepuro Vita is now available in a practical single-dose sachet that you can always carry with you. Verdepuro Vita SHOT comes in a box of 14 sachets each containing 60ml of liquid extract: have it when you are at work, at the gym or on holiday. It is the best herbal home remedy to lower your cholesterol and triglycerides. It protects the cardiovascular system and promotes immune health.
It contains 30 times the polyphenolic content of extra virgin olive oil and is one of the best Antioxidant Supplements in nature, 20% Oleuropein minimum.
VITA SHOT - TAKE-AWAY OLIVE LEAF EXTRACT
Antioxidant Action

Detox Action


Immune System Support: excellent treatment against viruses, retroviruses, bacteria (herpex simplex, candida)

Natural Metabolism Booster

It lowers cholesterol naturally


It regulates blood circulation

GlutenFree, VeganOK, Product of Italy, Haccp+ standards
Drink 1 sachet daily between meals.

Olive Leaf Extract has usually no side effects.
INGREDIENTS:
Water, Olive (Olea europaea L.) leaves (66g/L), fructose, Marigold (Calendula officinalis L.) flower heads (3,1g/L) water extract, flavourings, acid (citric acid); preservative (potassium sorbate)
Security Information
Dietary supplements should not be used as a substitute for a varied and balanced diet and a healthy lifestyle. Not recommended for pregnant and lactating women. Keep out of reach of children in a cool and dry place. These products are not intended to diagnose, treat, cure or prevent a disease or infection.